Next event : In person attendance to events are cancelled until further notice due to Covid-19.


Tel. 604 318-1402
Available seven days a week.
We accept assignments across the PNW and overseas.

Accredited Marine Surveyor c. AMS1281

Member since 2011,member 117734
ABYC cdrtified Master Marine Technician

.
Blue Sea certified Marine Electrical installer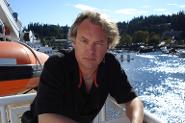 Discovery Marine Surveys®, located in beautiful Vancouver B.C. Canada is proud to serve the boating community of British Columbia and other regions as required.
We provide a range of services for private yachts & small crafts, including pre-purchase surveys, insurance surveys, appraisal inspections, damage surveys and consulting services.
Discovery Marine Surveys is a registered company, owned and operated by:
Cpt. Alain P. Routhier, Cpt. a 104769, CDN102164M, SAMS-AMS 1281, ABYC 117734, Blue Sea certified installer, ABYC Master Marine Technician and a member of the Council of BC Yacht Clubs
Is the survey report for your vessel more than three years old?
Are you purchasing the boat of your dreams?
Are you looking to finance the purchase of your new boat?

Are you changing insurance companies?

Have you used your propeller as a depth-sounder?
If you answered yes to any of the questions above, you likely need the services of a marine surveyor.
A boat is a complex piece of machinery; it is also your own little floating "island". When you purchase a new or new-to-you vessel, you are making a sizable investment not only financially but also in your recreation time, relaxation, quality of life, good times with friends and family, and your love of the sea.
A marine surveyor's report is a negotiating tool, a financing tool, a maintenance tool, and offers protection in the event of an insurance claim.
A marine survey report also offers peace of mind when you let the lines slip off the docking cleats.
Trust a surveyor who has made marine surveying his career, not his hobby.
Ici on parle Français!
Last update: August, 2021.